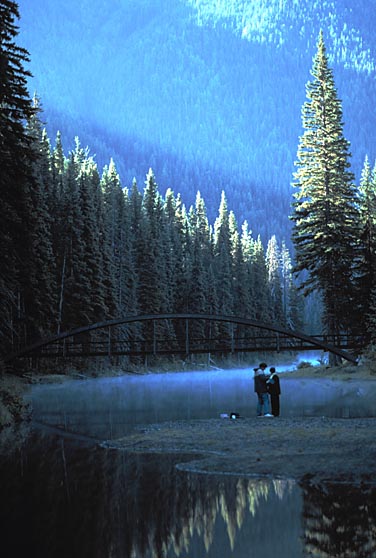 One problem with we have with our web site is that, since we concentrate on showing photographs as computer backgrounds, we have little opportunity to show vertically composed pictures.Here is a picture that works fairly well when cropped as a horizontal.
This was made early in the morning at Lightening Lake in Manning Provincial Park, about 200km east of Vancouver. We were staying in a popular campground near this area. The photograph was made during a pre-breakfast walk to have a look at the fog on the lake.
This photograph was made with an 85mm lens wide open at f1.4 onto Kodak Gold 100 film. This was a very contrasty negative, this image was manipulated in the computer to bring the bright and dark areas into an acceptable range for viewing.
While we were preparing this page, we were also preparing to return here for a few days of camping. With luck we'll return with some pictures of the Picas (small rabbits) that live here.